Ah, that precious time off that I (and no doubt many of you!) have been looking forward to all term is finally here:
Reading week!!
Now I know that for most of us, the fate of our reading week depends on our midterm schedule and assignment deadlines. Last year I had three tests in a row right after the break, so I was all like:
Needless to say, between studying and volunteering for
Alternative Reading Week
, I had very little time to get out to any events happening on campus or check out the city surrounding it. A real shame! But I'm happy to report that I lucked out this year and will definitely be taking advantage of some free days to get active and have fun. Yep, this year my attitude towards Reading Week is more like…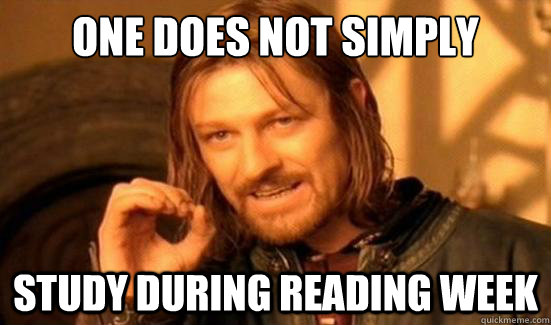 Ha-ha. So if you feel the same way, or you need some study break ideas to get you through the inevitable reading that awaits you, then check out some of the ideas and events I've listed below!
Explore the gym in res
With many students gone for the break, if you are sticking around then now's a great time to scope out the gym at your residence, if it's got one! I know for sure that
Trinity
,
Chestnut
, and
Innis
 have exercise rooms that their students may use. You can sneak in a workout during a long day of studying, since you won't even have to leave the building!
Skate at Nathan Phillips Square
This is a popular spot not far from campus, at
Queen and Bay
. It's been on my to-do list since last year and I STILL have not made it out…but maybe I'll finally have a chance to check it out with a friend.
Recharge at Harvest Noon or Hart House
The cute little café will be closed during the week, but they will be hosting some
special food workshops
 in the evenings! I'm talking about
chocolate
and coffee,
bread-baking
, and an interesting
sensory awareness dinner
. There's also a
Community Kitchen
dinner at Hart House that sounds like it will be delicious!
Hike around High Park
One of my favourite
places
 off campus...it's close for me and I have been walking/running through the trails here many times.  It's super easy to get to from downtown – literally right across the street from
High Park Subway Station.
Of course, don't forget that the
Athletic Centre
will
still be open
every day except Family Day.
Hart House
will be open all week too! And if you're free tonight, come
watch the Blues Basketball team
take on Ryerson as both Varsity an intramural athletes highlight the
Athlete Ally initiative
that has been taking place all week! Hope you all have a fun week!! -Lesia